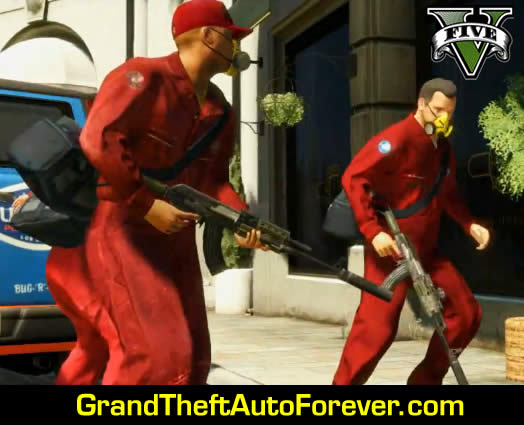 In the only glimpse so far into the world of GTA V, there is one scene that shows the GTA 5 weapons. We've got a screenshot for you to look at. It's important when you consider what the rumors are about the weapons in Grand Theft Auto 5.
Regarding the scene in the image, I found it interesting that someone commented how silly it was that silencers are on an AK-47 rifle. Then the realization happened that hey, perhaps weapons will be customizable in GTA V. Well if you believe some of the leaked information, then indeed it appears that some weapons will enjoy customization. According to the same leak there will even be some home-made weapons in GTA 5.  Yes it's rumor at this point but based on the trailer and the rumor together, I think the evidence is over whelming.
According to the most recent leak, here is a list of GTA 5 weapons:
remote mines
claymores
flame throwers
lazer trip mines
objects from the street and buildings
medieval weapons such as swords, axes, etc.
Aside from the weapons themselves, according to rumors there is some real improvements to the weapons gameplay mechanics. In particular we've heard in two different leaks that the cover mechanics are vastly improved. Animations for climbing, rolling, diving, and crawling are more realistic. In addition there are apparently improved reload animations.