So you wanna play GTA 5 on your PC?
Quick Links: System Requirements - Tips - GTA 5 PC mods - Screenshots

Here is what you need to use cheats for GTA V PC. Cheats cannot be used during missions. If you enable cheats and then start a mission, the cheats will automatically be disabled. Cheats apply for your current gaming session only. If you restart the game or load a saved game then any cheats will be removed. Once a cheat code is activated, achievements will be disabled for that session.
There are 3 methods of entering cheats on PC. The first method is a fast and easy way to enter cheats. See the image below which shows the box (cheats console) in which you can type the name of the cheat rather than the second method which required the entry of phone numbers. The third method is when you are playing with a gamepad such as a PS3, PS4, Xbox 360 or Xbox One controller. In that situation, just enter the button codes which we have listed on the pages for either the PlayStation or the Xbox systems.
Method A:
Press "~" (the tilde key which is left of the "1" key). This will bring up an input box on-screen (see image below). IMPORTANT NOTE: If you are using a controller, you will need to press the "~" button twice. Once to switch from gamepad to keyboard, the the next press will activate the cheat console input.
Simply type in the name of the cheat from the list below. These are NOT case sensitive!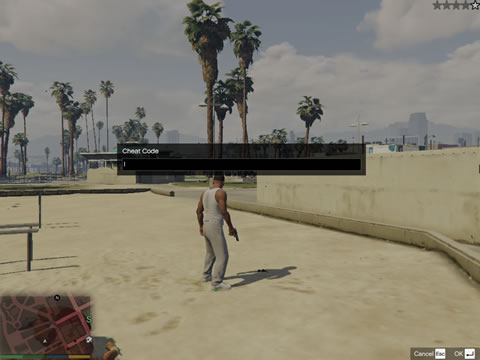 Current PC Cheats for Method A:
Invincibility - PAIN KILLER
Full Health and Armor -TURTLE
Raise Wanted Level - FUGITIVE
Recharge Special Ability - POWER-UP
Faster Run - CATCH ME
Flaming Bullets - INCENDIARY
Explosive Melee Attacks - HOT HANDS
Slow-Motion Aim - DEAD-EYE
Moon Gravity - FLOATER
Slidey Cars - SNOW DAY
Change Weather - MAKE IT RAIN
Slow-Motion - SLOW MO
Drunk Mode - LIQUOR
Skyfall - SKY-FALL
Spawn Trashmaster - TRASHED
Spawn Stunt Plane - BARN STORM
Spawn Sanchez - OFF-ROAD
Spawn Rapid GT - RAPID-GT
Spawn PCJ-600 Motorcycle - ROCKET
Spawn Buzzard - BUZZ-OFF
Spawn Parachute - SKY-DIVE
Spawn Limo - VINEWOOD
Spawn Comet - COMET
Spawn BMX Bike - BANDIT
Note: If you use TeamSpeak to chat with friends while playing, change your TS key bindings as tilde is also Mute Microphone.
Method B:
Press "UP" arrow
Go to contacts and press "SPACE"
Enter cheat codes (see listings below)
Press "SPACE" to call (activates the cheat)
Important Time Saving Tip: Press the * button on your phone keypad and it will automatically dial the last number you used. In other words, this will re-activate the last cheat you entered.
Current PC Cheats For Method B:
Player Effects:

Drunk Mode: 1-999-547-861
Explosive Melee Attacks: 1-999-4684-2637
Fast Run: 1-999-228-8463
Flaming Bullets: 1-999-462-363-4279
Invincibility: 1-999-724-654-5537
Max Health & Armor: 1-999-887-853
Raise Wanted Level: 1-999-3844-8483
Recharge Ability: 1-999-769-3787
Skyfall: 1-999-759-3255
Slow Motion Aim: 1-999-332-3393
Items:

Parachute: 1-999-759-3483
Weapons: Not released yet
World Effects:

Change Weather: 1-999-625-348-7246
Moon Gravity: 1-999-356-2837
Slippery Cars: 1-999-766-9329
Slow Motion: 1-999-756-966
Vehicles:

BMX: 1-999-226-348
Buzzard Helicopter: 1-999-289-9633
Comet Sports Car: 1-999-266-38
Limousine: 1-999-846-39663
Motorbike: 1-999-762-538
Rapid GT sports car: 1-999-727-4348
Dual-sport dirtbike: 1-999-633-7623
Stunt Plane: 1-999-2276-78676
Garbage truck: 1-999-872-433
---
Tips for GTA V PC
Aim Down Sights - Scroll up when you aim, toggles between cross hair zoom and iron.
Camera Angle Tip - There's an option the lets you set the camera angle to "High". The difference is subtle, but it lets you see better over little hills end crests when driving.
Ragdoll - If you want to "ragdoll" aka throw yourself at a person, press "R".
Save File Location - \Documents\Rockstar Games\GTA V\Profiles\
Hide from the police - Use train tunnels (ex. near the Lumberyard in Paleto Bay), the subway, or a hole below one of the bridges in the center of Los Santos that you use in the Jewelry Heist in single player.
PS4 controller on PC - Dualshock 4 controllers have native support. Just make sure you are not already inside the game when you plug in.
You can move much faster on a bike if you lean forward and jump.
Gain quick speed in a car, use Franklin and spam his ability while accelerating. Takes 1/4 the distance to get to max speed.
---
Lots of new GTA 5 PC information, details and discussion points. Hands-on impressions, from the experts say this. The BIGGEST DIFFERENCE with the PV version vs. say Xbox One and PS4 is in the framerates. On PC, running at 60FPS, it's very noticeable and improved than the console 30FPS. It's a biggie and for everyone reading this, you are going to want to ensure you can pump this game out at 60FPS. Why waste the beauty of this game by limiting the frame rates to something less? If you have the money and need to upgrade, don't hesitate!
Want to play the game in 4K resolution? What type of gaming rig would you need for the ultimate experience? We have the answers for you. Here is a quick breakdown on video cards that will perform well, along with the price points of those video cards. Do you need to go shopping? These are recommendation by Rockstar so this is official information. Here are the details:
Run GTA 5 PC at 60FPS at 1080p
you will need either a Nvidia GTX 660 2GB ($230 USD currently) or AMD HD7870 2GB ($390 USD currently).
Run GTA 5 PC at 30FPS at 4K
you will need either a AMD HD7870 2GB ($390 USD currently) or a Nvidia GTX 760 ($250 USD currently) with 2GB of VRAM.
Run GTA 5 PC at 60FPS at 4K
you will need high-end SLI or Crossfire setup ($230 to $390 currently if you have one of the recommended cards in your system already)
How much is a 4K PC monitor?
Samsung and Asus have the most affordable 4K monitors right now, starting at around $570 USD and up. That's pricing for better known brands. You will be looking at paying $500 USD and up for a monitor from a lesser known brand.
Another massive addition exclusively for the PC version is the movie maker editor. Call it an editing suite if you like. It's robust and it's going to likely create a lot of interesting cinema for us to watch on YouTube. Short movies? For sure. Funny clips? Those should be plentiful. The video editor is going to allow gamers to create clips and movies unlike anything before. If the PC version is a smashing success, as it is expected, then perhaps there will be a Minecraft like surge of interesting fan made movies and videos. If movie making is your thing, then GTA V PC has everything you would want.
Well folks, we're sad to say that the March 24, 2015 release date for PC gamers has been....delayed until April 14th. At this point in time, collectively, PC gamers must take a deep breath. It's going to come, indeed someday, it's going to come. The good news is that because of this extra delay, Rockstar will be offering up $200,000 of in-game cash to anyone who pre ordered the PC game. Not bad, but I'm sure most of us wanted the game on March 24th instead of extra cash.
It's official now. Rockstar has announced a new release date for GTA 5 PC, which is now March 24, 2015. Don't rant too hard because Rockstar is offering a speical deal if you pre order the PC version. You get $500,000 of in-game cash for the story mode, and then you get another $500,000 for GTA Online. If you pre order by February 1st, you get an extra $300,000 for GTA Online, plus a free game of your choice. The details of the games available in this deal are on the official Rockstar Warehouse Store here.
Rockstar has also finally released the official GTA 5 PC Specs, both minimum and recommended settings. We are updating our Grand Theft Auto 5 PC system requirements post here. There are already some juicy details about the PC version.
Let's talk mods! Is there a mod you most want to see? Send us an email to contact at GrandTheftAutoForever dot com and we will compile a "most wanted" mods list. Let your voice be heard. As a community, let's create something amazing!
Yes, it's going to be 4K compatible! This could be very very nice for those who might be wanting to show this off on their big HDTV.
You will be able to transfer your Online characters and progress from any of the four consoles (PS3, PS4, Xbox 360 or Xbox One) to the PC platform. To be clear, if you transfer or have already transferred your progress from PS3 or Xbox 360 to either PS4 or Xbox One, then you will still be able to do another transfer again from PS4 or Xbox One to PC.
GTA 5 PC version will feature an exclusive video editor designed for advanced movie making.
support for up to triple monitor configurations, as well as NVidia 3D Vision for up to triple monitor setups
if you are currently playing GTA Online, you will be super happy to know that you can transfer your online characters and progression to the PS4, Xbox One or PC version.
PC will see increased draw distances and overall better eye candy. This really should be something special indeed.
pre order and ordering price and details coming soon
system requirements, we're trying to find those officially.
new wildlife
upgraded weather and damage effects
denser traffic (see the traffic in the new trailer!)
the AI is going to be smarter on the PC version (source)
unconfirmed, but you should be able to use PS4, Xbox 360, Xbox One and PS4 controllers to play the PC version of GTA V. In GTA 4, they supported Xinput so this next game will most likely support the same.
PC Version Screenshots: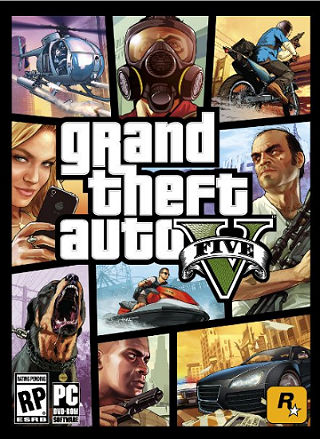 Best PC Game In History? You could easily suggest right now, without the release of GTA 5 PC, Xbox One and PlayStation 4, that Grand Theft Auto 5 has been the greatest video game ever released. Is 33-million copies sold not enough to convince you? Well just wait until October 2014 when the next wave of gamers buys their copy or should I say copies. No video game is history is going to be able to touch the sales of GTA 5. No how, no way. If you look and read right now, people are going to double dip. Not many if any games get bought twice but this one is going to be the exception.
The PC gaming community who didn't buy a console version are juiced about this game coming to the PC. Did the online petition and its 728,000 signatures convince you of the excitement and desire for this game? Mods, cheats, gameplay and visuals that are going to blow the doors off anything seen before. Rockstar doesn't do rushed. They don't do average. Rockstar knows what PC gamers are all about and therefore don't expect anything other than a masterpiece. If it wasn't ready, then it wouldn't be announced.
The side-by-side comparisons are out and people are raving. Understand that these comparisons are between last gen and the PS4 version. We aren't even talking about a comparison between the original GTA V release and what a robust gaming PC rig can do. I think it's safe to say that it's going to be shocking. Dare to disagree?
Rockstar is already mentioning added features and game tweaks that are possible thanks to the power of the next generation consoles and that also speaks to the almost limitless possibilities on the PC platform. Improved AI is the latest discussion. More traffic and vehicles on the roads is going to make an already impressive Los Santos even that much more impressive.
Here is what is quoted on Steam about GTA V PC:
Grand Theft Auto V for PC will take full advantage of the power of PC to deliver across-the-board enhancements including increased resolution and graphical detail, denser traffic, greater draw distances, upgraded AI, new wildlife, and advanced weather and damage effects for the ultimate open world experience.
People are talking about GTA 5 PC mods. Will there be mods? I can't imagine a game that's going to have a user base this massive, not having some of the most incredible mods ever seen. The more people playing a game, the more worthwhile mods become. Look at minecraft. What happened? The popularity of the game have meant an incredible amount of creativity went into the game in the name of mods. Expect that same phenomenon from GTA V.
If you haven't shopped for computer video cards lately, one thing is clear. Prices have dropped. You can get a fully capable video card for a decent price and that is also another factor which is leading to GTA V PC greatness. The fact that the game will be more capable of exceeding expectations in terms of visuals is a big deal. It's another reason why the PC version of Grand Theft Auto 5 can be the greatest PC game of all time. Has their been a bigger open world that what Los Santos provides? In console game it's the biggest, but is it the biggest in terms of PC games? I would suggest that yes it is. The level of detail and goings on is something that hasn't been seen before even in PC gaming.

Updated and Official PC System Requirements: This will be the hottest question. It's complicated. You can likely meet the minimum but surely as a PC gamer you want to enjoy a visual experience superior to that of the PS4 and Xbox One. Here is the official PC requirements:
Minimum Requirements (Official):
Intel Core 2 Quad CPU Q6600 @ 2.40GHz (4 CPUs) / AMD Phenom 9850 Quad-Core Processor (4 CPUs) @ 2.5GHz
4GB RAM
NVIDIA 9800 GT 1GB / AMD HD 4870 1GB (DX 10, 10.1, 11)
65GB hard drive space
Windows 8.1 64 Bit, Windows 8 64 Bit, Windows 7 64 Bit Service Pack 1, Windows Vista 64 Bit Service Pack 2* (*NVIDIA video card recommended if running Vista OS)
Recommended Requirements (Official):
Intel Core i5 3470 @ 3.2GHZ (4 CPUs) / AMD X8 FX-8350 @ 4GHZ (8 CPUs)
8GB RAM
NVIDIA GTX 660 2GB / AMD HD7870 2GB
65GB hard drive space
Windows 8.1 64 Bit, Windows 8 64 Bit, Windows 7 64 Bit Service Pack 1
The good news is this. Video card prices are coming way down. You can make a fairly cheap upgrade and we will start listed the best price point video cards on the market today. You don't need to overspend. More details coming in the next few hours as we get full PC resources for you. It's game on now that this news is official!

Cheats for GTA 5 on your PC - No reason to think the PC will be different than the console versions in regards to available cheat codes. Here are the 27 known cheats so far!
spawn buzzard
spawn stunt plane
spawn duster
spawn comet
spawn rapid gt
spawn limo
spawn trashmaster
spawn caddy
spawn bmx
spawn sanchez
spawn pcj
give parachute
raise wanted level
lower wanted level
recharge ability meter
drunk mode
slidey cars
fast run
fast swim
slow mo aim
moon gravity
explosive melee attacks
bang bang
flaming bullets
skyfall
change weather
slow mo

The PC gaming community waits for news about mods. Does Rockstar really have any control over mods? Doubtful. We don't have any details just yet but expect to find GTA V PC mods listed here as they become available. If the game is a massive hit with huge sales, there will be many cool mods.
How To Run GTA 5 PC Mods
Using previous PC versions of Grand Theft Auto, there will be some "must do's" regarding running mods in GTA 5 on your PC.
1. Back up your file! This means backup your original files and game saves. You never know what's going to happen and with mods, it's especially true.
2. Know how to roll back your current version of GTA 5. Mods are moving targets. In other words, with each new version (patch) of GTA V, mods will naturally break. Some authors will update to the newest version of Grand Theft Auto V, but others will not. It's going to be a bit tricky, but we will post more info on rolling back your version of GTA V is you need to run a certain mod that you really want, but is only available on a prior version of the game.
3. Let the fun begin! We will post all the best mods available. It's hard to say at this point how Rockstar is going to view mods. Perhaps they will embrace them. Who knows for sure. There is so much already packed into GTAV that the classic mods from years past like texture enhancers and first person mods are all but a moot point. Creative minds exists and I'm sure we will see amazing mods right away.
Are you planning on playing mods? How about this. What mod to you most want ot see? Send us an email to contact at GrandTheftAutoForever.com and we will post a list of the most wanted mods for GTA 5!
Most Requested GTA 5 Mods
Jet Pack Mod
Big Robots Mod
Star Wars Mod
Godzilla Mod
Zombie Mod
Back to the Future Mod

New Hot Rumor/Leak: Speculation suggests that delays for the PC version might have something to do with tightening up the online portion of GTA V. If you aren't aware, the GTA Online has seen its fair fair of trials and tribulations. In a sense, Rockstar could be working to fix those kinks before rolling out even more players into that online world. Makes sense. Rockstar never does anything until it meets their very very high standards.
Important games bring out the leaks and investigations. People will look at code and seek any evidence possible. In the case of Grand Theft Auto V, people want to know about a PC version. Today there has been quite an interesting discovery. Here is a Reddit post which details some of the interesting tidbits within the code of the game.
Hot Rumor: This is juicy! With the launch of the GTA iFruit app, somebody decided to take a closer look at the contents. Guess what? There are numerous references to GTA V PC. Not PS4 or Xbox One, but clearly the evidence is there in the app of "PC" Grand Theft Auto 5. Please come up with a release date soon Rockstar!
Real Photo of GTA V PC Box: Okay there has been the Amazon Germany listing for the PC version so far. That's been about it so far. Up until now that is...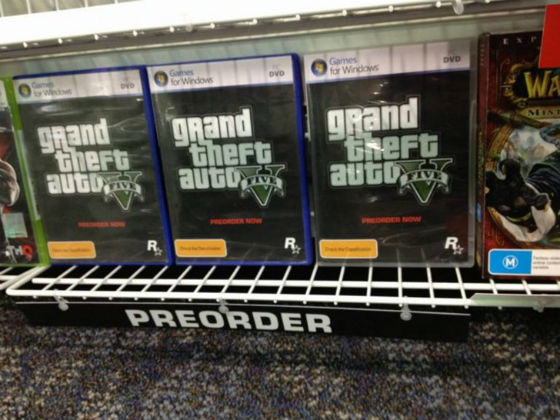 This image has be taken from an Australian EBGames store. Doesn't look photo shopped to me and it looks darn authentic. So far, this is the best leak so far! (photo credit: unknown)
Possible GTA 5 PC requirements: Here is something to consider. One of the more robust PC games coming out is Battlefield 4. Given that a PC version of GTA V hasn't even been announced, I would best guess that the requirements for BF4 will be close or accurate regarding Grand Theft Auto 5 on PC. Destructive environments are a big part of both games and both will have large viewing spaces with lots of moving polygons. Make sense? Yes BF4 is a FPS, but GTA V will be no slouch in the resources and specs demand on your rig. I'm comfortable posting these requirements as a guideline for everyone to think about. If the GTA version for PC is 6 to 10 months away? Perhaps you will be looking at getting something even more powerful. Don't make a purchase on these specs, but you can likely decide if you're going to be playing on high, med, low and if you will be needing a trip to the computer store in the near future. Here we go:
Battlefield 4 specs (guideline for possible GTA V PC requirements)
Minimum:
Intel Core 2 Duo 2.4GHz or AMD Athlon X3 2.8GHz
4GB RAM
Nvidia GeForce 8800GT or AMD Radeon HD 3870 with 512MB memory
30GB hard drive space
Windows Vista SP2 32-bit
Recommended:
Intel quad-core or AMD six-core CPU
8GB RAM
Nvidia GeForce GTX 660 or AMD Radeon HD 7870 with 3GB memory
Windows 8 64-bit
The cost of the recommended video cards would run you about $200 today (Sept 2013) which isn't going to hurt that bad should you have to upgrade.
Breaking News: Perhaps this is grasping at straws, but it's possible that during a Nvidia earnings call, they might have said something the were not supposed to say. Chris Evenden, Senior IR Director of Nvidia, said the following:
"The PC market is evolving. As entry level laptops face pressure from tablets. Yet sales of specialty PCs like gaming systems and work stations continue to grow. The disparity reflects how consumers use these different classes of PCs. Many consumers look for PC as a general purpose device they can use for browsing, email, social media video. But much of this can be better served by a tablet. In contrast, gamers are preparing their systems for a strong roster of games coming this fall, including blockbuster franchises, such as Call of Duty: Ghosts, Grand Theft Auto V and Assassin's Creed IV. "

Updated quote from Nvidia denying knowledge of a GTA V PC version:

"Please note, during our Thursday's earnings call, our investor relations team provided a list of important games that gamers are looking forward to on PC this fall, and included Grand Theft Auto V on that list. This statement was made with the intent of expressing enthusiasm for the games industry in general, and was not intended to represent specific knowledge possessed by NVIDIA. NVIDIA does not have information on any possible PC version release of Grand Theft Auto or its availability. We deeply regret the error."
So take this for what it is. I know we are all desperate for news of a PC version of GTA 5, so perhaps this is a real stretch of the imagination or a total mistaken comment. See more on this at CraveOnline.com. Once again if you care about a PS4 and Xbox One version of GTA V, any news about a PC version means those consoles are most likely to see a version also and in close proximity to the PC version release.
Now spotted, as of July 14, on Amazon Germamy, there is a pre order listing for a PC version of Grand Theft Auto 5. See it here. Can this be real? For sure it can! We might see if Amazon removes the listing which might be an indicator. What I see as odd is that the platform lists Windows 7 and Vista, but doesn't include Windows 8. That's strange I think. That said, this is looking like great news. If it's true, then it's more than likely that we will see Xbox One and PS4 get their versions of the new game. How so? It's the x86 architecture and that PC is the same as the next generation Xbox and Playstation consoles. The ease of making the game for the next gen is faster with this key point in mind.
Sign the online petition asking/pleading Rockstar to make a PC version of GTA 5. As of July 2013, there are a whopping 200,000 signatures. Sign the petition here.
Update: If you're at the desperate stage of wanting news about a possible PC version of Grand Theft Auto 5, here is a tidbit. Not an earth shattering and borderline desparate story, but Rockstar Leeds has put out an ad for wanting a graphics programmer. Does this indicate somethings a brewin? Perhaps. Perhaps not.
"Rockstar Leeds are currently looking for a talented graphics programmer to help bring our latest titles to the PC platform. Working together with the other Rockstar studios, you will be responsible for maintaining the studio's uncompromising quality bar, delivering the highest quality PC experience possible." -source Rockstar
New details have emerged but no details about a PC version. With that said, the game sounds like a resource hog which is good news for PC gamers. Official word from Rockstar about the PC version of GTA V. Quote: "Hey guys, glad to see so much enthusiasm about the release announcement. For those asking about the PC platform, we're currently focused on the Xbox 360 and PS3 versions of the game and don't have any details to share about a PC version at this time." So there you have it. Perhaps after the PS3 and Xbox 360 pre orders start on November 5th, Rockstar will be more comfortable providing more PC version details.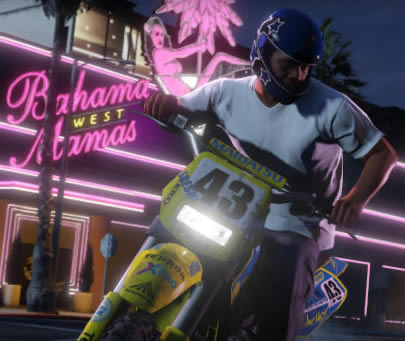 We've got a leak on the internet about GTA 5 PC version. What we can say, and get very excited, is that the PC GTA V version will come out at the same time as the Xbox 360 and PS3 versions. Sounds great to us! Further, the leak indicated that it's being ported by Rockstar Leeds and from the insider leak, the port is a much better version that what GTA 4 PC was. So this is great news and sure it's rumor, but based on the details of the leak it sound completely legit. Additional details mention that the PC version of GTA 5 will have a 64 multiplayer mode with dedicated servers.
The best news regarding a PC version is that the game has been so long in development. Shouldn't they have had enough time to have all versions ready at the same time? Surely they won't make us wait any longer than the rest. Who knows for sure. Welcome to our GTA 5 PC cheats page. We know that GTA 5 is going to be released in 2012 or 2013 and so our cheats section will be lacking. Kind of hard to come up with GTA 5 cheats without playing the game first.
With Windows 8 on the way, gaming on the PC should be stronger than ever. We're also seeing the Windows 8 RT version which is great for tablets and means you might be seeing a mobile PC version of GTA V.
When GTA 5 is released, we want you to remember us. Choose us as your #1 GTA 5 resource. We will have all of the best cheats available. GTA games keep getting bigger and bigger and the worlds are expanding to the point that everyone need to use cheats. Afterall, we all want to get our moneys worth from GTA game! Cheat a little bit and see the cool hidden treasures in GTA 5 when the time comes.
So, you're looking for GTA 4 resources? Yes, we will give those to you! We want to be current and I'm sure if you're playing on your PC, cheats are a must. GTA 5 PC will be mind blowing if you compare how impressive GTA 4 is on PC.
By The Time GTA V Is Released, Will PC Gaming Still Be Relevant?
We have heard solid rumors that a PC version of GTA V will be released. If you listen to a lot of rumors from the gaming community, people like to think PC gaming is dying or dead. The fact is gaming on your PC is impressive! You can get the most amazing video cards and you can get eye candy that a Xbox or PS3 simply cannot match. We hope that the GTA 5 PC version taps into the power that most modern day video cards have. It would be a shame to have a dumbed down version. Hard to say right now because there aren't that many new rumors regarding the PC version. The fact is, don't worry. When it comes out, if all goes well, it will blow the other platforms out of the water in terms of framerates and graphics.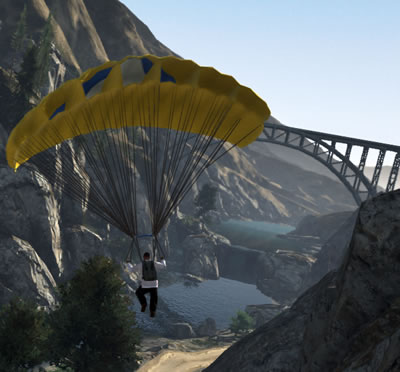 A view of Zancudo River location in GTA V
When the news comes, we will update as to the PC specs and what type of gaming rig or laptop you will want or require to play GTA V on your PC or laptop. This version will be for Windows 8 based on how long it's taking. With people slow to adopt to new Windows OS, don't be surprised for a Windows 7 compatible version.
So what type of computer or laptop will you need for a PC version of Grand Theft Auto V? Let's look at GTA 4 which is older now. Obviously if your PC isn't up to this level, you are going to have a near impossible time playing the latest and greatest GTA V unless you put it with the eye candy turned off.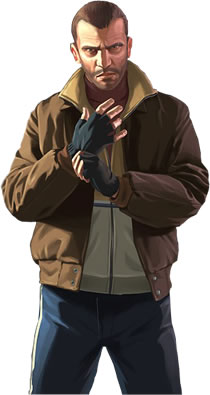 Minimum Specs for GTA IV:
Processor: Intel Core 2 Duo 1.8Ghz, AMD Athlon X2 64 2.4Ghz
Memory: 1.5GB
Free Hard Drive Space: 16GB
Video Card: 256MB NVidia 7900 / 256MB ATI X1900
DirectX 9 compatible Stereo Sound Card
Keyboard
Mouse
Recommended PC Specs for GTA IV:
Processor: Intel Core 2 Quad 2.4Ghz, AMD Phenom X3 2.1Ghz
Memory: 2GB (Windows XP) 2.5GB (Windows Vista)
Free Hard Drive Space: 18GB
Video Card: 512MB NVIDIA 8600 / 512MB ATI 3870
DirectX 9 compatible Surround Sound Card
Keyboard

Mouse



This game will be released for Windows 8 because the next PC operating system is due out in October 2012. We hope they have a GTA PC version compatible with Windows 7 and I'm sure they will. Yes the PS3 and Xbox 360 version of the Grand Theft Auto 5 are available for pre order, but the PC version is not yet. It does appear that a later release is the most realistic. Let's hope for the best!
Need to upgrade your PC? Here are some suggestions for graphics cards:
It's obvious that GTA V is going to be a resource hog. This might be one of those instances where you want to upgrade your PC to take full advantage of the massive world of the latest Grand Theft Auto game. Cranking up the eye candy on your PC takes some power and it's quite possible that you can't pull it off with what you have. Here are some decent graphics cards which are good power for the money.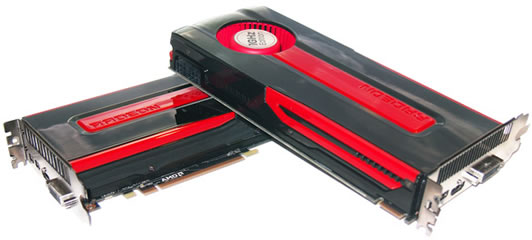 Here is the AMD Radeon HD 7870 and AMD Radeon HD 7850.
Check out what HotHardware.com has to say about them.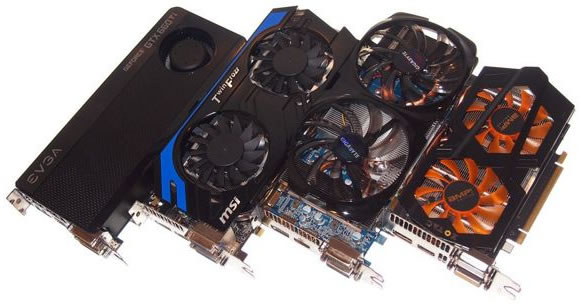 These are 4 versions of the Nvidia GeForce GTX 660 Ti. Impressive to say the least.
Check out a review of these PC graphics cards on HotHardware.com.
---