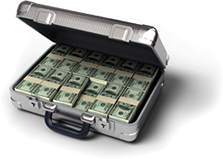 A while back we predicted that GTA V was going to be the greatest video game in history. Just now, Rockstar/Take-Two is saying they reached 1 billion in sales in just 3 days. The closest game to get to 1 billion? That was last year with Call Of Duty: Black Ops 2 which took 15 days to reach that level of sales. That's pretty astonishing when you think about it. It almost makes you think that this level of sales and record will be unbeatable. With the leaks recently of the PC version of GTA 5, you should be able to add some more revenue before the years end.
Is the record going to be safe or not? Afterall, that pesky and popular Call of Duty series has a new game coming out this Fall and it will be available for many more systems than GTA 5. I'm not so sure about COD Ghosts. Yes players can upgrade their PS3 or Xbox 360 versions to the new console versions for just $10 and that will give some double dipping revenues. I just don't know if the hype is there for Ghosts. Sure players jumped onto GTA V on the last generation consoles, but this game reached a fever pitch. I wonder if those COD fans will hold out and buy Ghosts when they get the consoles at a later date.
All this said, I think it's a virtually certainty that we're going to see a PC version sometime in November. Hard to imagine there not being a Xbox One and PS4 version too at some point. Throw in mobile devices like the iPhone, iPad and Android and you start to realize there is a massive earnings potential here. If Rockstar is able to hit a homerun with GTA Online and excellent DLC, then this franchise is just starting to hit its stride.
Greatest video game of all time? Looks pretty promising right now I'd say.